THE PARISH OF BAULKHAM HILLS
We welcome you to the website of the Parish Of Baulkham Hills in the diocese of Parramatta.
Thank you for visiting and we hope you enjoy connecting with our parish community.
Fr. Wim, Hoekstra, Parish Priest 
PARISH UPDATE – FRIDAY 09 December
A COVID SAFE PARISH
CHRISTMAS MASS TIMES
MOVEMENT AT THE STATION
Bishop Vincent has appointed Fr Andrew as Assistant Priest to Mary Queen of the Apostles Parish, Blacktown, and Fr Chadi Ibrahim SDB, currently at Blacktown, as Assistant Priest to the Parish of Baulkham Hills. Both appointments are effective from 16 January 2023.
RCIA PROGRAM
RCIA stands for the Rite of Christian Initiation of Adults It is a process of Christian faith formation offered to those who seek to become Catholic.
The initiation of new members is a gradual process allowing enquirers time to grow in faith and become full participants of the Catholic community. This program commences on Sunday, January 8. See full details in the Bulletin.
NEW WEBSITE
We expect the new Parish website to be active on Saturday. Thank you to Danny Liu, who has spent many hours working on this. Check it out at our website address, i.e.  https://parishofbaulkhamhills.org.au
SACRAMENTAL PROGRAM FOR 2023
The Parish sacramental program for 2023 has been finalised, and details are included in this week's full bulletin. The preparation program for the three sacraments – Confirmation, Reconciliation and Eucharist – will run at the same time for both communities.
POPE FRANCIS ON DISCERNMENT
Pope Francis continued his cycle of catechesis on Discernment, this week focusing on the theme "Confirming a good choice"
The fear of the Lord delights the heart,
and gives gladness and joy and long life
Those who fear the Lord will have a happy end;
on the day of their death they will be blessed…
The fear of the Lord is the crown of wisdom,
making peace and perfect health to flourish….
Those who are patient stay calm until the right moment,
and then cheerfulness comes back to them. (Bible reading: Sir 1: 12-13, 18, 23)
QUO VADIS PILGRIMAGE TO ISRAEL AND ROME
Details of my proposed pilgrimage to Israel and Rome next year are now available for download via this link or by via the QR code. Our pilgrimage will be following in the footsteps of St Peter.
If you are intending to join me, it would be appreciated if you could please contact Olive Tree Travel as soon as possible to indicate your interest.
Paper copies with booking forms are available in the Foyers of both Churches. Please feel free to forward these link to your friends or family.
CHANUKAH – The Jewish Celebration
Have you ever wanted to know a bit more about Chanukah, the Jewish celebration of light which usually occurs around the same time as Christmas. The Great Synagogue, 187a Elizabeth Street, Sydney is inviting you to come along and learn about the festival or attend the lighting of the Chanukah candles. Details at www.trybooking.com/CEIZA.
DAVID DOWLING TO BE ORDAINED TO THE PERMANENT DIACONATE
Congratulations to David Dowling, one of our long-time parishioners, who will be ordained to the permanent diaconate by Bishop Vincent at St Patrick's Cathedral, Parramatta, on Saturday, December 10 at 10.30am. Four other men who have been preparing with him will also be ordained to serve in our diocese.
David and his wife Dee have always been very active in our parish community, but for the last two years, David has been working at St John XXIII Parish, Stanhope Gardens, as part of his formation. David and his four confreres will bring the number of active permanent deacons to 20.
We congratulate David and Dee on this important step in their journey.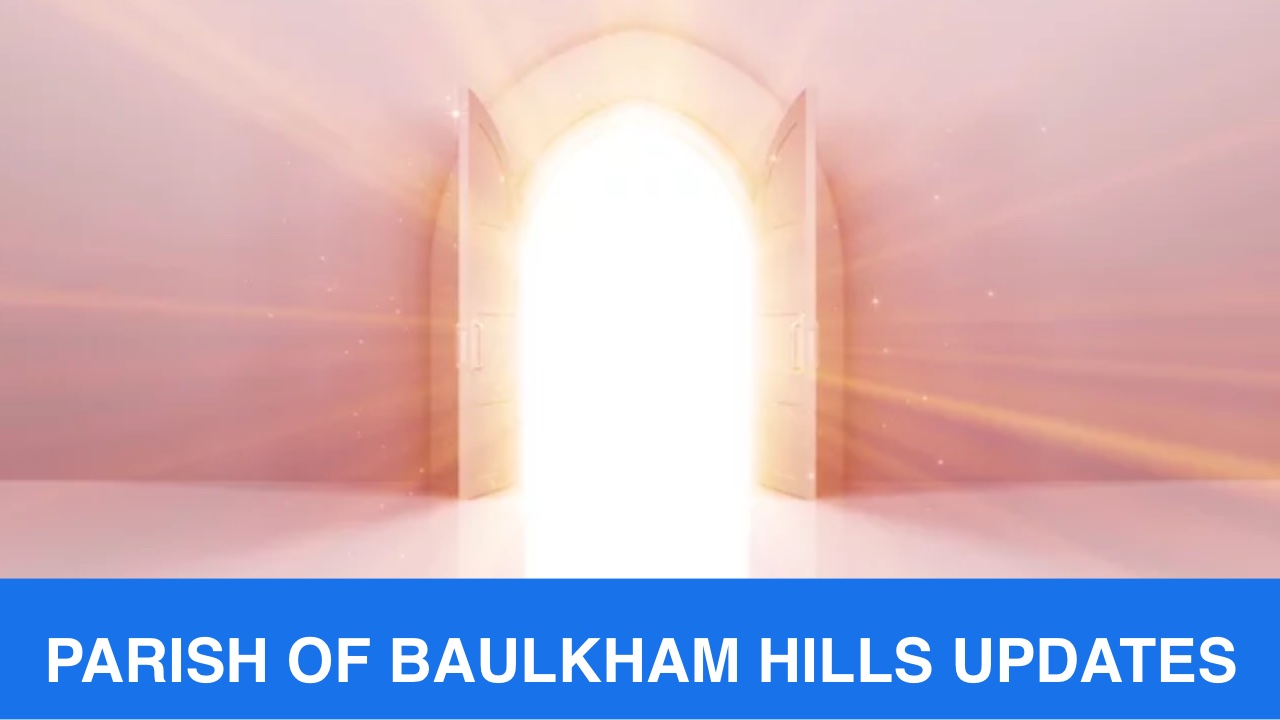 FOR THE DECEASED
Please remember those for whom prayers have been requested, especially for:
Recently Deceased:
Lean Docwra,
Rodney McCauley,
Kerry Dorahy
Anniversary
Helen Tarlinton,
Det. Insp.
Bryson Anderson
We really appreciate your continued support. To assist with the proper recording for the second collection, please include your envelope number if you have one.
For EFT to the First Collection – supporting the priests
BSB: 067 950
Account No: 000004265
Account Name: Diocesan Clergy
Reference: 6001 your name
For EFT to the second (envelope and loose) Collection – for support of the Parish,
BSB: 067 950
Account No : 000000214
Account Name: St Michael's Baulkham Hills
Reference: Envelope Number or Your Name
The Mass link for this Saturday for Third Sunday of Advent – Year A (Sat 6pm) and available on YOUTUBE after that is  https://youtu.be/q22riuOFWaw
Please copy the link into browser if it does not immediately work.
Mass is live streamed on Saturday evening at 6pm from Our Lady of Lourdes, and available for viewing afterwards via the link. We are also using FACEBOOK links via the Parish of Baulkham Hills FACEBOOK page. Thank you to Jim and Brian for your help with this every week.