THE PARISH OF BAULKHAM HILLS
Scan to Visit Website on Mobile Phone
Dear Parishioners,
On Thursday evening, Bishop Vincent ordained three men to the priesthood for the Diocese of Parramatta. We congratulate Father Adam Carlow, Father Matthew Dimian and Father Jack Elkazzi,
Father Adam has been appointed to Kenthurst, Fr Matthew to Castle Hill and Father Jack to Greystanes. We pray for them as they begin their priestly ministry among us.
We are now into February, and we ask all to take note of some requirements that need to be completed by all those involved in ministry in the parish – both communities. Please see the bulletin for further details.
PARISH UPDATE – FRIDAY 27 January
A COVID SAFE PARISH
CO-ORDINATOR/ORGANISERS OF CHILDREN'S LITURGY
After many years of countless service, both Julie Day and Louise van Gend have stepped down from 10am Sunday Mass Children's liturgy at St Michael's. So we are looking for some active parishioners who would like to be interested in this ministry, at both Church communities (9.30am at OLOL, and 10am at St Michael's during school terms.)
As you know this involves leading the Children to either the Parish Meeting Rooms or the Downey Room and helping make the Gospel of the day meaningful for them. We do have access to programs which will make this easier for you.
I realise that teachers might want a break from their weekday routines, but if we can have some involvement from them and parish Mums or Dads, it will be a very important ministry in our parish.
POPE FRANCIS AND THE PASSION FOR EVANGELISATION
This week Pope Francis had his apostolic Journey to the Democratic Republic of the Congo and South Sudan and was not in Rome for his General Audience. Thus the next instalment of his catechesis on The Passion For Evangelization: The Apostolic Zeal Of The Believer, was not given. It should resume next week.
This week provide his Angelus message for 5th Sunday of Ordinary Time, which he gave in 2020.
QUO VADIS PILGRIMAGE TO ISRAEL AND ROME: 5 – 23 SEPTEMBER 2023
For those who might still be considering this, a few vacancies still exist for my QUO VADIS pilgrimage to Israel and Rome in September. But we need to know within the next few weeks of your interest, so we can start confirming bookings.   Details are available via this link or by via the QR code. Our pilgrimage will be following in the footsteps of St Peter.
If you are intending to join me, it would be could please contact Olive Tree Travel as soon as possible to indicate your interest.
A few paper copies with booking forms are available at St Michael's Church. Please feel free to forward these link to your friends or family.
LITURGICAL MINISTRY FORMATION COURSES 2023
The Liturgical Ministry Formation Courses will recommence in February. This is formation for anyone interested in serving within the Liturgical Ministries either as Readers, Extraordinary Ministers of Communion, Communion to the Sick and Dying and Ministers at the Altar. If you are interested or would like more information, please contact the Office for Worship on 0460 037 795 or mary.gale@parracatholic.org or visit our website to download an enrolment form at https://officeforworship.org.au/
We would really like to see many of our parishioners undertaking this course, as it will help us. Please consider.
DIOCESE OF PARRAMATTA WYD23 PILGRIMAGE REGISTRATIONS OPEN!
 Registration for WYD23 in Lisbon has now opened. Young people aged 16-35 can now view our itinerary, inclusions, indicative pricing, register and pay their $800 deposit to secure their place. Limited spaces still available to join our team of 170 pilgrims with Bishop Vincent. Visit www.parrawyd.org 
POPE FRANCIS' HOMILY AT THE MASS DURING THE NIGHT 1 JANUARY 2022
The shepherds found "Mary and Joseph, and the child lying in the manger" (Lk 2:16). For the shepherds, the manger was a joyful sign: it was the confirmation of the message they had heard from the angel (cf. v. 12), the place where they found the Saviour. It is also the proof of God's closeness to them, for he was born in a manger, an object they know well, as a sign of his closeness and familiarity. The manger is also a joyful sign for us. Jesus touches our hearts by being born in littleness and poverty; he fills us with love, not fear. The manger foretells the One who makes himself food for us. His poverty is good news for everyone, especially the marginalized, the rejected and those who do not count in the eyes of the world. For that is how God comes: not on a fast track, and lacking even a cradle! That is what is beautiful about seeing him there, laid in a manger.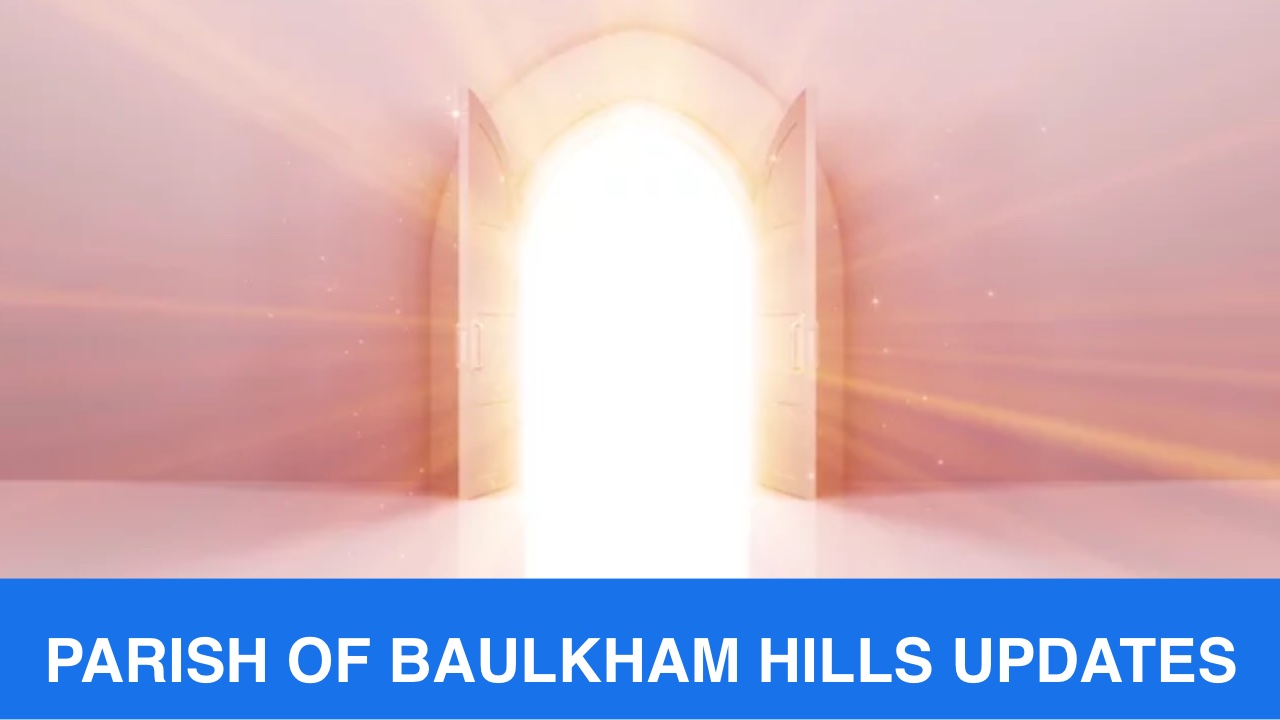 FOR THE DECEASED
Please remember those for whom prayers have been requested, especially for:
Recently Deceased:
Margaretha (Marga) van Gend,
Gay Gonzo,
Pamela Coy
Anniversary
Anne Newton,
Cecil Lahood,
Adrian & Clair Hoekstra,
Francisca Francisco,
Christopher Teh
We really appreciate your continued support. To assist with the proper recording for the second collection, please include your envelope number if you have one.
For EFT to the First Collection – supporting the priests
BSB: 067 950
Account No: 000004265
Account Name: Diocesan Clergy
Reference: 6001 your name
For EFT to the second (envelope and loose) Collection – for support of the Parish,
BSB: 067 950
Account No : 000000214
Account Name: St Michael's Baulkham Hills
Reference: Envelope Number or Your Name
The Mass link for this Saturday for Fifth Sunday in Ordinary Time – Year A (Sat 6pm) and available on YOUTUBE after that is https://youtu.be/-V6zVqBxaYw.  Please copy the link into browser if it does not immediately work.
Mass is live streamed on Saturday evening at 6pm from Our Lady of Lourdes, and available for viewing afterwards via the link. We are also using FACEBOOK links via the Parish of Baulkham Hills FACEBOOK page. Thank you to Jim and Brian for your help with this every week.